WHAT'S NEW?
Scroll down to see all our latest news…
EASTER afternoon tea
Introducing our EASTER afternoon tea available exclusively at our Marlborough restaurant and for nationwide gift delivery.
Click here for information and bookings.
cocktail making classes
Wanna shake things up a little?
Why not try your hand at Mixology with a fun two hour cocktail making & tasting experience.
Learn how to mix cocktails & choose the complimentary ingredients. Use the shakers & savour your efforts, accompanied by a selection of hot bites.
Take home your very own engraved cocktail shaker, martini glass and and recipe book to practise your new skills on your family and friends.
Book as a stand-alone experience from £50 per person (2 person minimum) Or combine with an overnight stay in our adjoining boutique hotel from £190 per room/suite. For information and bookings click here or email our team at [email protected]
cupcakes
Introducing our personalised range of cupcakes. Perfect for all occasions including birthdays, anniversaries, corporate, events and parties.
For info and orders click here
VALENTINE'S DAY
Introducing our Valentine's Day afternoon tea available exclusively at our Marlborough restaurant and for gifting delivered nationwide. Click here for further information and bookings.
CHRISTMAS
YOUR PARTY: DELIVERED
We cater for all your festive party celebrations and deliver our DOZEN and TWENTY FOUR sharing boxes by the truck load to your office, homes & parties. click here for information.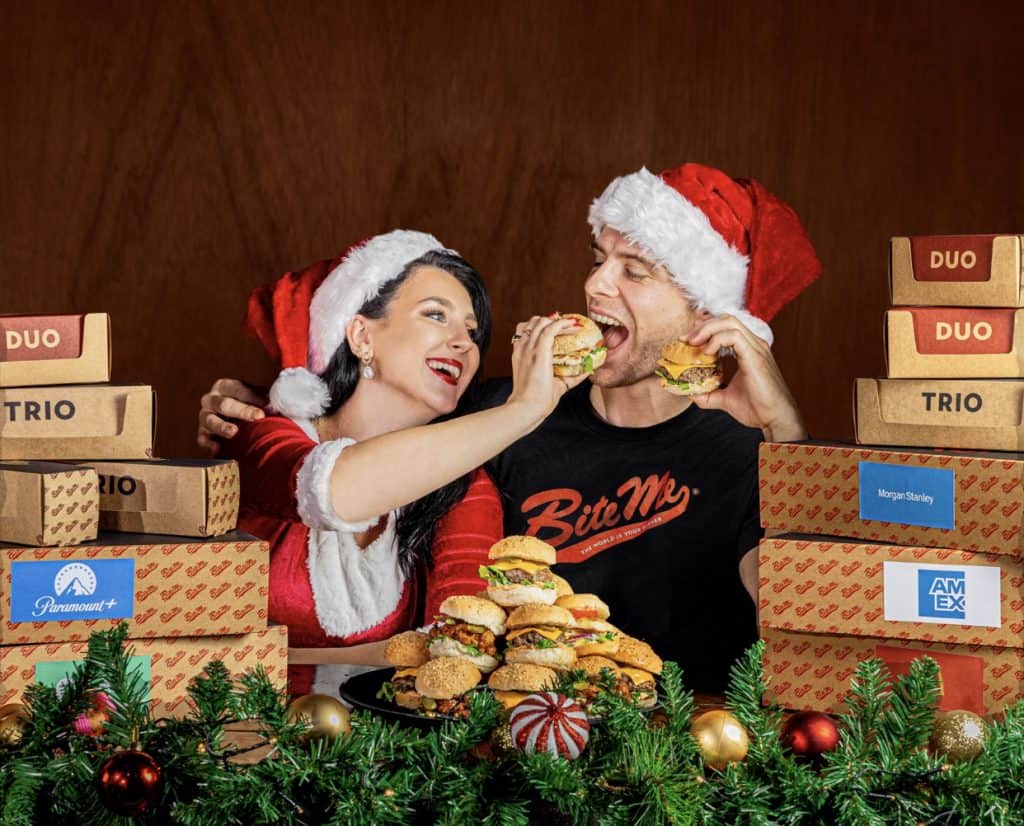 Booking & enquiries: [email protected] or by chatting to us here on Live Chat on the right hand corner of your screen.
HALLOWEEN
Celebrate with our boo-tiful Halloween afternoon (or anytime) teas at both our Brighton & Marlborough restaurants. For bookings email [email protected]
We deliver spookily delicious mini burgers by the box load to your homes and office parties.
national burger day
MINI BURGER CHALLENGE
BRIGHTON PRIDE
Come visit us this weekend at Brighton Pride for mini burgers & cocktails. Love a couple of the same!
BRITISH SUMMER TIME
Our side chick TiNDLE X GET PLUCKED have been announced as the official plant-based food partner of American Express presents British Summer Time, Hyde Park from 24th June to 10th July.
PLATINUM JUBILEE tea
PLATINUM JUBILEE: Celebrate all things British with our ultimate afternoon tea served on our big wheel. Your choice of two mini burgers per person served with our exquisite homemade cup cakes, burger cakes, petit four, macarons, freshly baked scones with strawberry jam & Cornish clotted cream, assorted truffles, chocolate, caramel popcorn and your choice of tea, coffee or hot chocolate £39 pp
for info and reservations call 01672 514776 or email [email protected]
london calling!
BURGER DELIVERY?
We are proud to announce not one but two new delivery hubs in Central London as well as Marlborough and surrounding areas.
At BITE ME®, we've created a range of sumptuous mini-burgers (not sliders), including The American Classic, Bloody Mary, Lambtastic, Bacon Cheese, Duck Me & Pluck me, along with vegetarian and Vegan options.
We deliver in DUO, TRIO, QUAD, DOZEN & TWENTY FOUR sharing boxes.
So next time you're wondering how many salads, boring wraps and stodgy sandwiches will satisfy your group, look no further than BITE ME®. We'll deliver safely straight to your event, office, party, or just about anywhere.
You can order by calling 020 3951 8284 or shoot us an email at [email protected] or by chatting to us on Live Chat here in the bottom right hand side of your screen.
So go on, try us today. We promise we'll deliver. Quite literally.
diy burger
home delivery

kit

INTRODUCING OUR YUMMY DIY BURGER DELIVERY KITS. NATIONAL NEXT DAY DELIVERY AVAILABLE.
BURGER LAS VEGAS!
COMING SOON

We are thrilled and excited to announce that we will be opening our first restaurant in the USA on Las Vegas's world famous Strip with our all new 24/7 restaurant, including our toppings buffet, champagne, cocktail and FREEZESHAKES® bar and our burger eating challenge party room. Watch this space for further details. (what's eaten in Vegas, stays in Vegas)
So, Lockdown is ending. Yay!

Right then, you lovely lot, you can all breath a deep sigh of relief; BITE ME® and GET PLUCKED® are both now open again in the UK and Dubai for both indoor and al fresco dining, delivery (to the surrounding areas) and collection. We've been working tirelessly to get this show up and running again and my, oh my it's gone off with a bang! Check out our brand new covered and heated terrace at our Marlborough restaurant where we are serving up our delicious mini-burgers along with our side chick GET PLUCKED® – chicken cones, FREEZESHAKES®, beer, wine and cocktails.
We've got three ways you can get your hands…well, fingers and thumbs…on our sumptuous menu.
We call it The Three T's:
Tuck-In:

The best way to get your mush round a burger – come in and see us. We're open between noon to 3 and 5 to 9 Monday to Friday, 12 to 9 Saturday and Sunday, so come by and see for yourself what all the fuss is about.

Take-Out:

Going somewhere in a rush? No worry – we offer a collection service. Simply call us with your order on 01672 516125 and pop in when you can to pick up your box of yummy-ness.

Tied-Up:

In a bit of a pickle, (pun intended) and can't get to us, well no problem – we'll come to you. We deliver our burgers ourselves. You shall go to the ball!
So, If you have any questions, feedback or just want to chat burgers, you know where to find us.
We are proud to be shacked up with our sister restaurant and side chick, GET PLUCKED® in our Marlborough and Dubai locations.
Our chicken is free-range, fresh, and motherpluckin' tasty AF!
Get some gold for the 'gram with our banging range of chicken waffle cones, Poultrygeist & Hen Solo chicken burgers and sauce-drizzled chicken wings, popcorn bites and yummy sides.
Go on, give your mouth a good seeing to and check out our plucking delicious menu which you can order on its own or as a combo with BITE ME® delivered safely right to your door.
CHICKEN. IT'S OUR PLUCKING BUSINESS.
Sunday Roast
We are excited to announce we have launched exclusively at our Marlborough restaurant our exciting selection of Sunday Roast Burgers. A good old classic English roast served in our home made mini Yorkshire Puddings, with all the trimmings.
We've got After Eight, Birthday Shake, The Bounty and even The Fab Shake, and they're big enough to share. Check out our FREEZESHAKES® menu here.