About
At BITE ME® we believe that size isn't everything. So we've made bloody delightful mini burgers that fit perfectly between your finger and thumb. You can get a couple, a few or absolute s**t-loads! Check out our MENU
Our delicious PICK & MIX mini-burgers come in DUO, TRIO, QUAD, DOZEN & TWENTY FOUR sharing boxes.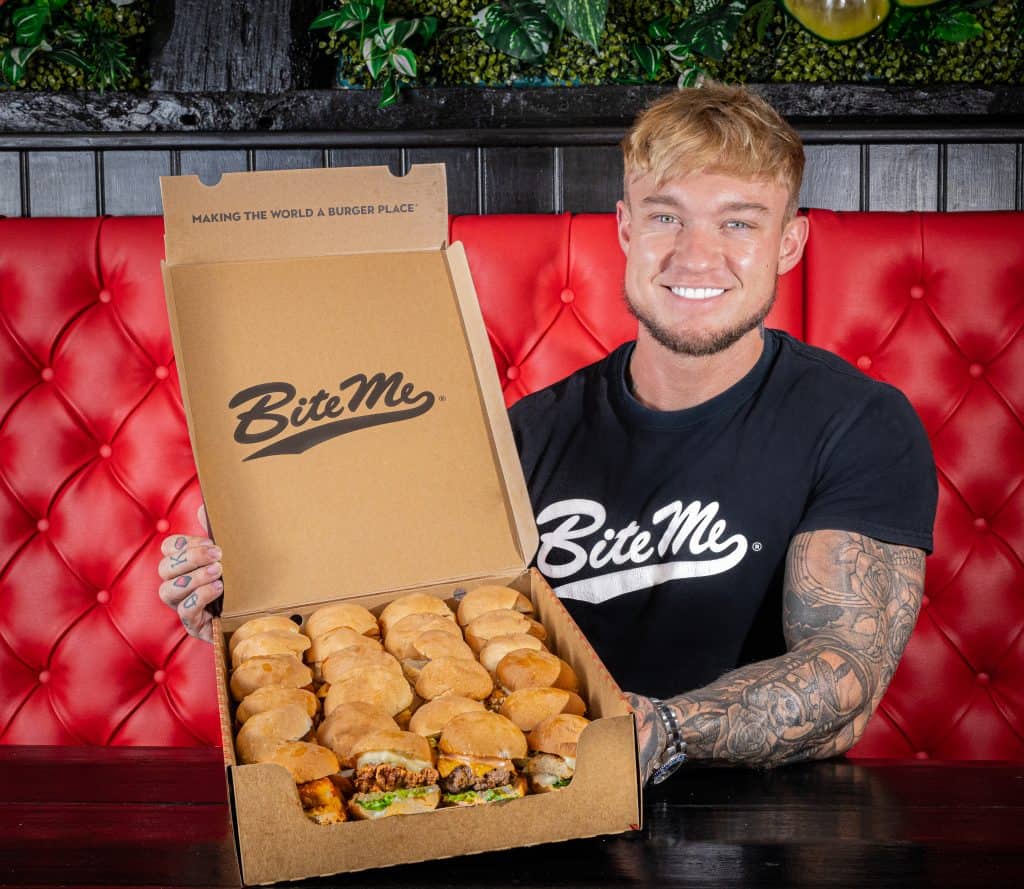 To talk burgers call us on 020 3951 8284 or email us at [email protected]. You can also use Live Chat in the right hand bottom corner of your screen.
Whether you're having an Al-Desko lunch, party, corporate event, wedding, kids party or fashion show, we'll deliver all your mini burger needs. Join us in our mission to make the world a burger place!
ABOUT OUR FOOD
We know that great food comes from great produce. That's why we source all our products from leading local suppliers wherever we can who cater to the finest restaurants in the UK.
We only cook to order. Our food is real and therefore takes real time to cook (but as soon as humanly possible!).
Our beef, lamb and duck is cooked medium (slightly pink in the middle) unless otherwise requested.
Every one of our sauces and dressings are freshly home made in our kitchens.
We are proud to offer a number of vegetarian, vegan & TiNDLE plant based options to our menu.
MEET THE MEAT
Our beef is locally reared and sourced and supplied by our own local butchers and twice ground and perfectly balanced to give maximum flavour and delivered daily. Along with all our other meats they are sustainably bred and reared to the highest standards and are packed full of natural flavour.
THIS IS HOW WE ROLL…
Our bakers are a traditional British family run bakery based in the south of England and supply our freshly baked rolls. We do offer a gluten free bun, however, we are not gluten free kitchen's.
We are proud to be shacked up with our sister restaurant and side chick, Get Plucked® in our Marlborough and Dubai locations.
Our chicken is free-range, fresh, and motherpluckin' tasty AF!
Get some gold for the 'gram with the Holy Pluck chicken waffle cone, Poultrygeist & Hen Solo chicken burgers or sauce-drizzled chicken wings and popcorn bites.
Go on, pluck yourself & check out our menu which you can order on its own or as a combo with our BITE ME® menu delivered safely right to your door.
BREAKING NEWS: OUR BRAND NEW FOOD TRUCK IS AVAILABLE FOR OUTDOOR CATERING & EVENTS.

In the U.S alone, people eat about thirteen billion burgers annually making them the undisputed hamburger consumers in the world.
For more interesting burger facts, subscribe to our mailing list